Beginner Kids Karate Classes Enrolling In September
We put children on the road to success at Silverspring Karate!
If you want a challenging and exciting way to build character, and get your child in the best physical, mental and spiritual shape of their life, you'll find it at Dennis Brown Shaolin Wu-Shu Center.
Our dynamic, high-energy Silver Spring Karate program might help children build strength, stamina, and flexibility, but it also helps develop a child's body, mind and character. It's a great way to turn inactive, unmotivated kids into happy, fit, high achievers!
Our Age-appropriate classes include: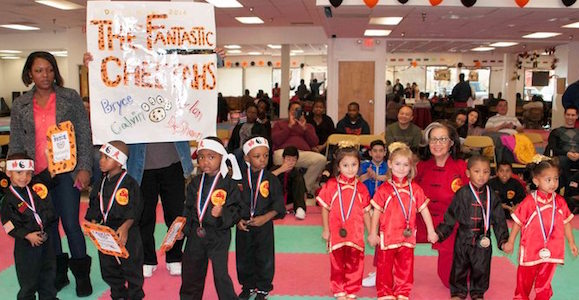 Our motto: Start them early.
Introducing martial arts at an early age enhances your child's concentration, discipline, listening skills and respect for others and sticks with them for life. The students involved in our Fantastic Cheetah Cubs program often go on to become honor roll students, excel in advanced studies, and are highly regarded in adult life.
Our Fantastic Cheetah Cubs program promotes positive self image and a positive attitude. Unlike any other sport, nobody sits on the bench. Everybody has fun including the parents/coaches that watch their Fantastic Cheetah Cubs grow in the martial arts!
Dragon Tots (for ages 4 to 6)
Your child will enjoy a fun program with a focus on fitness, self defense and character building. They'll learn to use good manners, to pay attention and to do what they are asked to do. You'll notice an increase in focus, respect and self-discipline that can be used throughout their daily lives.
Youth Program (for ages 7 to 12)
Your child will develop concentration, key life skills, positive values, and respect for themselves and others. At Silverspring Karate they will learn to take a strong stance for what is right ... gain academic discipline ... and develop physical conditioning and timing.
Ready to Kick-Start Your Child's Success!
To find out more about Silverspring Karate, just fill in your contact details and we'll send school and program information to your inbox.
Benefits of Kids Karate
Become strong, fit and flexible
Improve their grades
Take responsibility for their actions
Boost mental development
Gain a desire for health and fitness
Know exactly how to stand up to bullies
And, have the courage to say NO in the face of peer pressure